Montessori education principles have transcended the classroom, influencing various aspects of parenting and home life. One notable adaptation is the Montessori bed, a concept that emphasizes independence, safety, and comfort for children.
What is a Montessori Bed?
At its core, a Montessori bed is a low-to-the-ground bed designed to provide children with the freedom to explore their sleep environment independently. This approach aligns with Maria Montessori's belief in allowing children to actively engage with their surroundings.
Benefits of Toddler Floor Beds
Independence: Montessori beds empower children to make choices about their sleep environment. They can easily get in and out of bed, fostering a sense of autonomy.
Safety: With no risk of falling from a height, these beds provide a safe sleeping environment for young children transitioning from cribs.
Comfort: Montessori beds often incorporate soft, inviting materials, creating a cozy and inviting sleep space.
Promotes Learning: Children learn responsibility by making their beds and keeping their sleep area tidy.
Smooth Transition: Transitioning from a crib to a regular bed is often easier with a Montessori bed due to its familiar and accessible design.
Best Toddler Floor Bed Models
1. Montoddler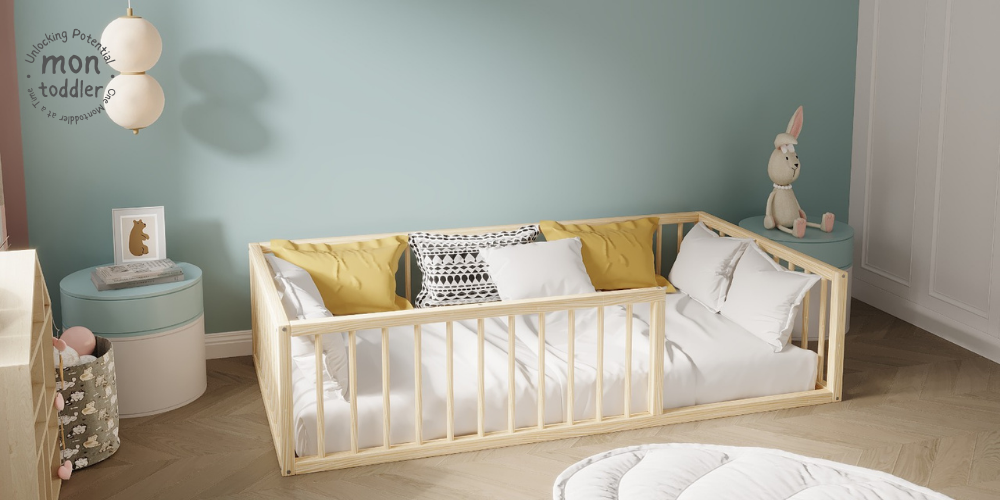 I recently purchased the Montoddler natural wood toddler floor bed for my little one, and I couldn't be happier with my choice. This bed is more than just a piece of furniture; it's a game-changer for both parents and toddlers. First and foremost, the aesthetics of this bed are a real standout. Crafted from natural wood, it blends seamlessly with any room decor. The bed's minimalist design exudes elegance and simplicity, making it a beautiful addition to our toddler's room.
Safety is a top priority for us, and Montoddler nailed it. The low-to-the-ground design ensures that our toddler can easily climb in and out safely. As parents, we appreciate the peace of mind that comes with knowing our little one is secure during the night.
2. Busywood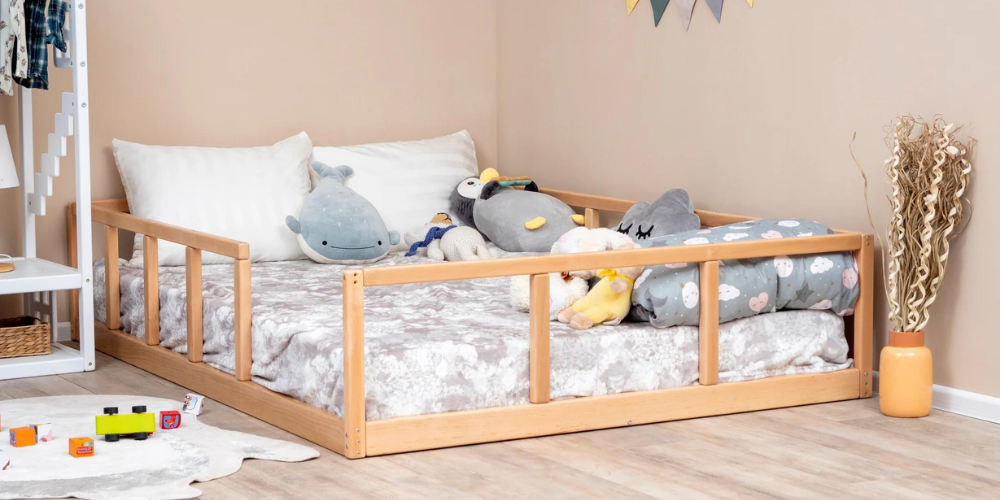 Independence is a key theme with this bed. Our toddler loves climbing in and out of their bed independently, fostering a sense of self-reliance. Plus, the durability of the Busywood bed is truly impressive. It's built to withstand the energetic play of toddlers, promising years of use.
One standout feature is how this bed encourages creativity. Whether it's adding playful bedding or creating a themed sleep space, the Busywood Toddler Floor Bed serves as a canvas for imagination.
Key Features of Montessori Beds
Low Height: These beds are intentionally low, usually just a few inches above the ground, ensuring a safe and easy entry and exit.
Safety Rails: Some models include safety rails to prevent rolling out of bed during sleep.
Floor Bed: Montessori beds are essentially mattresses placed directly on the floor, eliminating the need for a traditional bed frame or box spring.
Simple Design: They typically feature a minimalist design, free from excessive decorations or distractions.
Montessori Bed DIY or Store-Bought
Many parents opt to build their Montessori beds, customizing them to suit their child's needs and the overall bedroom aesthetics. However, several companies now offer pre-made Montessori-style beds with various design options.
Tips for Setting up a Montessori Bed
Childproof the Room: Ensure the bedroom is safe and free of hazards, as your child will have more freedom to move around.
Child-Centric Decor: Arrange furniture and decorations at the child's eye level to promote exploration and independence.
Involve the Child: Let your child choose bedding and decorate their sleep space, encouraging a sense of ownership.
Keep it Simple: Avoid clutter and excessive toys in the sleeping area to create a calming environment.
In Conclusion
Montessori beds offer an effective way to incorporate Montessori principles into your child's daily routine, promoting independence, safety, and comfort. Whether you choose to purchase one or embark on a DIY project, these beds can be a valuable addition to your child's room, facilitating their growth and development in a nurturing sleep environment.