Montoddler, founded by Architect Saim Demirci in 2012 in Istanbul, Turkey, was established with the mission of crafting furniture in line with Montessori principles. In 2023, after successfully selling its domestically produced furniture in Turkey on platforms like ETSY, the company expanded its horizons to the United States. Since September 2023, Montoddler has been operating from its new base in Wayne, New Jersey. While continuing to make its products available on ETSY and Amazon, the brand's primary focus has shifted to its central hub, Montoddler.com.
Under the visionary leadership of Architect Saim Demirci, Montoddler has remained dedicated to producing furniture that aligns with the Montessori philosophy, promoting child-centered and holistic learning environments. The company's commitment to quality, sustainability, and customer satisfaction has been a driving force behind its growth and success.
Montoddler's journey from Istanbul to Wayne signifies its global impact and the universal recognition of its Montessori-inspired furniture. With its online presence and commitment to providing families with thoughtfully crafted, educational, and aesthetically pleasing furniture, Montoddler continues to shape the future of child development and early education, one piece of furniture at a time.
Widest Range of Montessori Furniture
Montoddler primarily specializes in producing Montessori-inspired furniture and educational toys, including Montessori beds, Pikler triangles, playhouses, learning towers, and various toys. The brand has garnered high praise from its users for the quality and educational value of its products. Furthermore, Montoddler places significant emphasis on social responsibility and strives to minimize its carbon footprint.
Montoddler Learning Tower
As a parent, you're probably familiar with the incredible drive for independence that toddlers develop. It's a beautiful yet challenging phase, and finding tools to support it is essential. That's where the Montoddler Foldable Learning Tower enters the picture, and let me tell you, it's been a game changer in our household.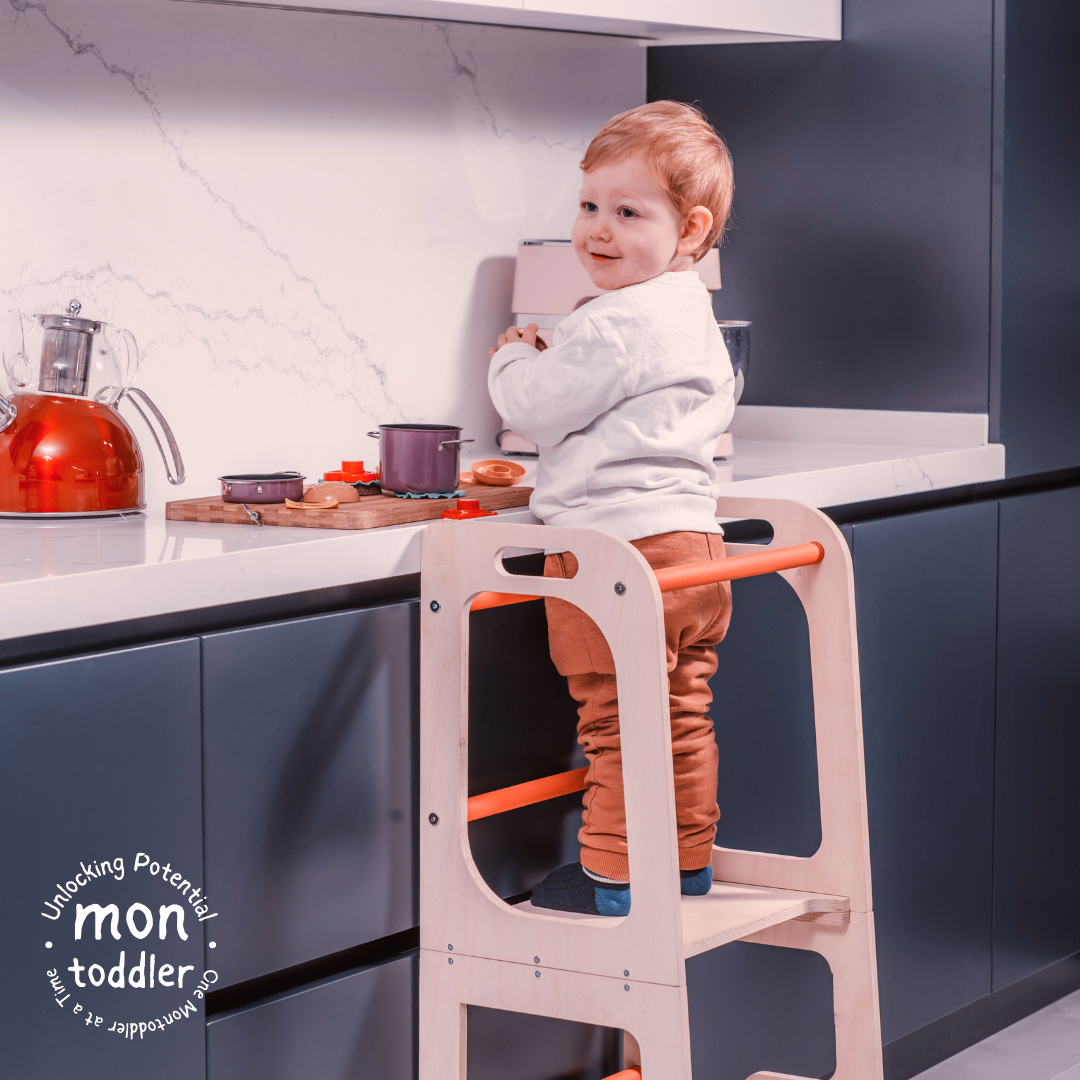 Montoddler's Effort on Carbon Foorprint
While the brand continues to manufacture products in Turkey for the European market, it has adopted a localized approach for the American market. This means that Montoddler's products for the American market are manufactured in the United States. This strategic decision aims to reduce carbon emissions to the lowest possible levels by minimizing the environmental impact associated with long-distance shipping.
Montoddler's commitment to quality, education, and environmental responsibility underscores its dedication to creating a positive impact on children's development and the world we live in. By offering thoughtfully designed, sustainably produced, and highly engaging products, Montoddler remains a beacon in the realm of Montessori-inspired furniture and educational materials.
Montoddler on Social Media
Facebook : https://www.facebook.com/montoddler
Instagram : https://www.instagram.com/montoddler/
Twitter : https://twitter.com/montoddler
Pinterest : https://www.pinterest.com/montoddler
Youtube : https://www.youtube.com/@Montoddler
Tiktok : https://www.tiktok.com/@montoddler
Montoddler on Review Platforms
Google : https://g.page/r/CfGddMq7WG7fEBM/review
Trustpilot : https://www.trustpilot.com/review/montoddler.com